Share WED 11 SEP: Free screening of THEY SHALL NOT GROW OLD @SwanPubSE7, 7:30pm (plus pre-film talk at 7:15) w @CWFilmFestival
On Day Six (Wed 11 Sep) of the Charlton and Woolwich Free Film Festival we are showing our third film at Festival HQ, They Shall Not Grow Old at The White Swan in Charlton Village. There will be a talk beforehand.
Click on the Facebook link to let us know you're coming, and please tell your friends, we're also on Twitter @CWFilmFestival.
All our screenings are free and available on a first-come, first-served basis.
WEDNESDAY 11 SEPTEMBER 2019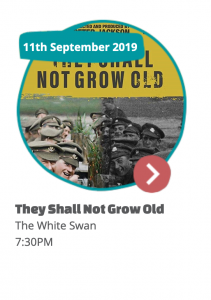 THEY SHALL NOT GROW OLD (15)
INDOORS
The White Swan, Charlton Village
Talk at 7.15pm, film starts at 7.30pm (doors 6.45pm)
1. They Shall Not Grow Old (15) – 7.30pm, w talk at 7.15, The White Swan [INDOORS]
Using ground breaking computer restoration technology, Peter Jackson and his team have created a moving, real-life depiction of the Great War of 1914-18 in restored, realistic colour. The footage came from the archives of the Imperial War Museum in London and the voiceovers the audience hears are those of men who fought in the conflict and which are taken from the IWM and BBC archives. This is an intensely moving and evocative piece of film-making.
At 19.15 hrs, before the film screening, we will have an introduction and Q&A from renowned battlefield guide, author and military historian Clive Harris. He will give his thoughts on the documentary and how, as a former soldier, it affected his views on the Great War. Clive will also be happy to answer questions from the audience.
[CWFFF event page] [Facebook event page]
Travel options for The White Swan
[Google Maps] [What3Words: skill.burns.change]
Buses stopping nearby: 53, 54, 380 (longer journey times), 422
[Contact The White Swan]
Plan a journey with Citymapper (free online and phone app)
Other films we showed at The White Swan in #CWFFF19
Life of Brian (Sun 8th Sep) – 8pm (gardens)
They Shall Not Grow Old (Wed 11th Sep) – 7.45pm (indoors)
Other films coming up at nearby Charlton House
Faces of Genocide & Shooting Dogs, aka Beyond the Gates (Thu 12th Sep) – 7pm (indoors)
Dean Spanley (Fri 13th Sep) – 8.30pm (outdoors, bring your dogs!)
---
All 2019 Charlton & Woolwich Free Film Festival events
[CWFFF all events page on this site][CWFFF all events page on Facebook]
Full listing of other films in our festival are shown below.
The Charlton and Woolwich Free Film Festival is funded by Royal Borough Greenwich.