Share

Tuesday 10th September 2019
Leitis in Waiting + Shorts
Free
(No ticket required - First come first served)
6:30PM (Doors open From 6.00PM)
INDOOR:
Thames Side Studios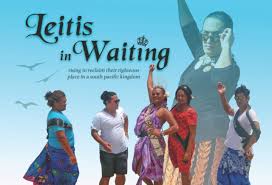 Leitis in Waiting is the story of Joey Mataele and the Tonga leitis, an intrepid group of native transgender women fighting a rising tide of religious fundamentalism in their South Pacific Kingdom.
The film follows Joey, a devout Catholic of noble descent, as she organizes an exuberant beauty pageant presided over by a princess, provides shelter and training for a young contestant rejected by her family, and spars with American-financed evangelicals threatening to resurrect colonial-era laws that would criminalize the leitis' lives. With unexpected humour and extraordinary access to the Kingdom's royals and religious leaders, her emotional journey reveals what it means to be different in a society ruled by tradition, and the challenge of fulfilling the promise of human rights for all without forsaking culture and tradition.
Joey Mataele is a leader in the LGBTQI and human rights movements in the Pacific. She co-founded the Tonga Leiti's Association in 1992 and developed the Miss Galaxy Pageant as an annual event to support it. Joey is also a talented singer and entertainer who understands the importance of oral culture and the role of song, humour and dance in Pacific cultures.
Our shorts programme includes:
Auntie
Seven years after 12 year old Kera's mother emigrates to England from Barbados in search of a better life, her guardian 'Auntie' makes a decision that risks damaging the special bond between them.
Britain on Film: Welcome to Britain
Featuring the voices of different generations of British immigrants from around the world, these short films show a picture of a country in flux. the programme contends that all citizens should have a right to call themselves British: no matter where they started from.