Share TUE 10 SEP: LEITIS IN WAITING at Thames-side Studios for #cwfff19 Day Five, along with shorts 'Auntie' and 'Welcome to Britain'
A special 'international' triple bill with art exhibition for the fifth day (Tue 10 September) of the Charlton and Woolwich Free Film Festival with three films at another new festival venue, The Thames-side Studios. We're delighted that the Thames Side Studios Gallery, where the films are being screened is exhibiting Caroline Hands' show 'Who's Holding the Reins 2: From Turf to Joy'. Free viewing available to all film-goers.

All our screenings are free and available on a first-come, first-served basis.
Click on the Facebook link to let us know you're coming, and please tell your friends, we're also on Twitter @CWFilmFestival.
TUESDAY 10 SEPTEMBER 2019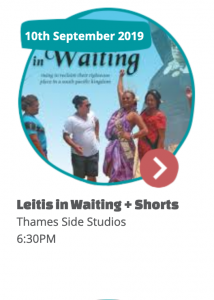 Leitis in Waiting (18) + Auntie (PG) + Welcome to Britain (PG)
INDOORS
Thames-side Studios, TW-127, Trinity Wharf, Harrington Way,
Warspite Road, SE18 5NR
Film starts at 6.30pm, doors 6.00pm
Leitis in Waiting (18) + Auntie (PG) + Welcome to Britain (PG) – 6.30pm, Thameside Studios [INDOORS]
Leitis in Waiting is a 2018 feature-length documentary about transgender rights in Tonga. It is produced and directed by Dean Hamer, Joe Wilson and Hinaleimoana Wong-Kalu. It tells the intriguing story of Joey Mataele and the Tonga Leitis, an intrepid group of transgender women fighting a rising tide of religious fundamentalism and intolerance in the South Pacific Kingdom.
The film follows Joey, a devout Catholic of noble descent, as she organizes an exuberant beauty pageant presided over by a princess, provides shelter and training for a young contestant rejected by her family, and spars with American-financed evangelicals threatening to resurrect colonial-era laws that would criminalize the leitis' lives. With unexpected humour and extraordinary access to the Tongan Kingdom's royals and religious leaders, her emotional journey reveals what it means to be different in a society ruled by tradition, and the challenge of fulfilling the promise of human rights for all without forsaking culture and tradition.
Our shorts programme includes:
Auntie
Auntie is a short film directed by London-based Lisa Harewood. "Auntie" (Marcia Burrowes) is a middle­-aged seamstress and respected caregiver in her rural Barbadian community. Twelve­ year ­old Kera (Che-­Annika Mayers) is her latest ward, left in Auntie's care when her mother migrated to England in search of a better life. When a barrel arrives from London bearing an unwelcome parcel, Auntie makes a hasty decision that risks destroying her special bond with Kera.
Britain on Film: Welcome to Britain
In a time of constant debates around immigration both nationally and internationally, our latest Britain on Film on Tour programme looks back to chart a century of arrivals to the UK. Featuring the voices of different generations of British immigrants themselves, we are delighted to present Britain on Film: Welcome to Britain.
What emerges from these incredibly valuable films is a picture of a country in flux as a century of conflict, the end of Empire and the forces of globalisation challenged geographical boundaries. See Basque families fleeing the Spanish Civil War arrive in Southampton; Vietnamese children find sanctuary in Birmingham; a Jewish family escape the pogroms of pre-war Romania for a Derby suburb. Witness early multi-culturalism in London and Manchester, the stories of second generation immigrants amid racism and rioting in the '70s and '80s, and the traditions, restrictions and comforts of immigrant communities.
During a period in which some UK residents are being asked to re-frame their presence in the country, these short films explore the manifold costs to our shared humanity in turning people away and contends that all citizens should have a right to call themselves British: no matter where they started from.
[CWFFF event page] [Facebook event page]
Travel options for Thames-side Studios
[Google Maps] [What3Words: bunny.cards.linen]
Buses stopping nearby: 161, 177, 180, 472, N1 on Woolwich Road
[Contact Thames-side Studios]
Plan a journey with Citymapper (free online and phone app)
Films showing nearby
Mars Attacks! (Thursday 12th September), 7.30pm, Starbucks, Charlton
---
All 2019 Charlton & Woolwich Free Film Festival events
[CWFFF all events page on this site][CWFFF all events page on Facebook]
Full listing of other films in our festival are shown below.
The Charlton and Woolwich Free Film Festival is funded by Royal Borough Greenwich.