Share

Tuesday 13th December 2016
Trading Places
Free
(No ticket required - First come first served)
8:00PM
INDOOR:
Off the Cuff Bar – Herne Hill
Dan Aykroyd, Eddie Murphy, a randy gorilla and commodities trading. If ever there was a recipe for a Christmas comedy classic, 1983's Trading Places is it. Some people call it a modern take on Mark Twain's classic novel, the Prince and the Pauper. We are not those people. We are however people that encourage you to come to OTC on Tuesday 13th December at 20:00 to see the film.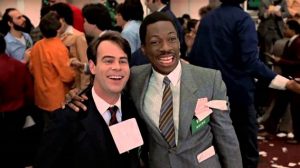 While you may not be able to trade orange juice contracts on the Philly Bourse any more, you can bring back memories of those days by joining us at the appropriately named OTC on 13th December at 20:00 for a screening of the 1980s Christmas comedy classic, Trading Places.
When Louis Winthorpe's bosses at commodities brokerage Duke and Duke bump into street hustler Billy Ray Valentine, they concoct a plan to test their nature versus nurture theory about success in the world of high finance. With Louis in prison and disowned by his friends, and Billy Ray taking his place in his job, life and home, only the support of Jamie Lee Curtis's Ophelia will get him out of his predicament.
Featuring star performances from two of the 1980s comedy stalwarts, Dan Aykroyd and Eddie Murphy, a still unexplained blacking up of Dan Aykroyd as a badly-accented Jamaican stoner and one of the villains being condemned to a life of bestial relations with a gorilla, you're not going to want to miss out.