Share

Friday 19th May 2023
The Banshees of Inisherin
Free
(No ticket required - First come first served)
9:00PM
OUTDOOR:
Judith Kerr Primary School
Bring something to sit on and whatever you need to stay warm and dry
It's hard to tell if this is a wonderful dark comedy or a Shakespearean tragedy. Filled with fabulous BAFTA winning performances this is not one to be missed.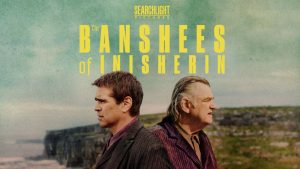 Set on a remote island off the west coast of Ireland, THE BANSHEES OF INISHERIN follows lifelong friends Padraic (Colin Farrell) and Colm (Brendan Gleeson), who find themselves at an impasse when Colm unexpectedly puts an end to their friendship. A stunned Padraic, aided by his sister Siobhan (Kerry Condon) and troubled young islander Dominic (Barry Keoghan), endeavours to repair the relationship, refusing to take no for an answer. But Padraic's repeated efforts only strengthen his former friend's resolve and when Colm delivers a desperate ultimatum, events swiftly escalate, with shocking consequences.
We will have pizza available for delivery from Yard Sale on the evening so arrive early and order your pizza!
FREE MAKES IT INCLUSIVE, DONATIONS MAKE IT HAPPEN 
As part of this year's Herne Hill Free Film Festival we are pleased to be supporting again the Norwood & Brixton Food Bank, helping to raise awareness for this most worthy of local causes. Any spare change collected at each of our screenings would be greatly appreciated and donated* to help this wonderful charity continue the admirable work.
*After we have covered our production costs 
Click here to see The Banshees of Inisherin trailer