Share

Saturday 13th May 2023
Nope
Free
(No ticket required - First come first served)
8:45PM
OUTDOOR:
Brockwell Lido – Herne Hill
Bring something to sit on and whatever you need to stay warm and dry
Oscar® winner Jordan Peele disrupted and redefined modern horror with Get Out (that we screened at the Lido in 2018) and then Us. Now, he reimagines the summer movie with a new pop nightmare: the expansive horror epic, Nope.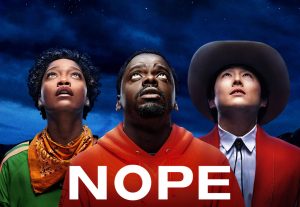 Following their father's shocking death, Hollywood animal wrangler OJ (Daniel Kaluuya) and his sister Emerald (Keke Palmer) begin observing unexplained phenomena on their vast Southern California ranch that leads them down an obsessive rabbit hole as they plot attempts to capture the mystery on camera. Along with a former child star turned family theme park ringmaster (Steven Yeun) who neighbours the siblings, the pair's efforts to chase the spectacle soon bring terrifying consequences and unimaginable horror. 
The result is a complex social thriller that unpacks the seeds of violence, risk and opportunism that are inseparable from the romanticised history of the American West…and from show business itself.
FREE MAKES IT INCLUSIVE, DONATIONS MAKE IT HAPPEN 
As part of this year's Herne Hill Free Film Festival we are pleased to be supporting again the Norwood & Brixton Food Bank, helping to raise awareness for this most worthy of local causes. Any spare change collected at each of our screenings would be greatly appreciated and donated* to help this wonderful charity continue the admirable work.
*After we have covered our production costs 
Click here to see the Nope trailer