Share

Wednesday 03rd May 2023
Empire of Light
Free
(No ticket required - First come first served)
8:00PM
INDOOR:
Herne Hill Baptist Church
Empire of Light, set in Margate in the early 1980s, is a film about the power of strong relationships during blustery times. Hilary (Olivia Coleman), the duty manager at the 'Empire Cinema' struggles with bipolar disorder, that she controls with medication. When she meets Stephen (Michael Ward), a Black British new employee at the Empire, she is euphoric about feeling desired and stops taking her medicine with consequences for her personal life and those around her, especially for her abusive boss Donald Ellis (Colin Firth).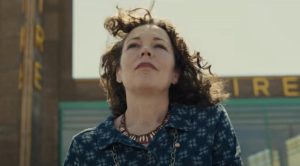 FREE MAKES IT INCLUSIVE, DONATIONS MAKE IT HAPPEN 
As part of this year's Herne Hill Free Film Festival we are pleased to be supporting again the Norwood & Brixton Food Bank, helping to raise awareness for this most worthy of local causes. Any spare change collected at each of our screenings would be greatly appreciated and donated* to help this wonderful charity continue the admirable work.
*After we have covered our production costs  
Click here to see the Empire of Light trailer