Share

Tuesday 02nd May 2017
Demain (Tomorrow)
Free
(No ticket required - First come first served)
7:00PM (Doors open 6:30PM)
Faced with a future that scientists say is a great cause for concern, Demain optimistically identifies initiatives in ten countries around the world that have proven themselves: concrete examples of solutions to environmental and social challenges of the twenty-first century, be it agriculture, energy, economy, education and governance. Winner of the 2016 César Award for Best Documentary Film, the Herne Hill Free Film Festival is pleased to be screening Demain in one of its new venues, Elmgreen School on 2 May at 7:00pm. Allez!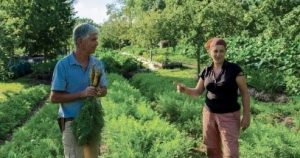 A globetrotting documentary that's more focused on solutions than problems, Demain provides a comprehensive look at ways in which activists, organisers and everyday people are trying to make the world a better, greener, more sustainable place. Co-directed by ecological rights advocate Cyril Dion and actress-filmmaker Melanie Laurent, this playfully made exposé should be required viewing for anyone wondering what they could do to pitch in and save the planet. Released theatrically in France just as 195 countries joined together to sign the landmark Paris Climate Accord, Demain offers up an alternative to big-nation (and some might say inadequate) proposals, revealing how farmers, teachers, researchers and small-town participants have found their own methods for combating issues like global warming, food shortage and general economic meltdown.
We've broken the rules of the Herne Hill Free Film Festival for this screening and are venturing into the wild world of SE27 for the evening (don't tell, please!). So join us at Elmgreen School on 2 May at 7:00pm for an optimistic film about a pessimistic theme… but if you come along you've just got to promise that you'll start trying to save the world from the morning of 3 May.
Click here for the trailer.