Share This is Spinal Tap at White @SwanPubSE7, Charlton, Sun 9 Sep, 8pm – FREE
Day 3 (Sun 9 September 2018) of the Charlton and Woolwich Free Film Festival will see us taking things to 11 with our 4th film – This is Spinal Tap. We'll be outside if the weather's fair (if not inside).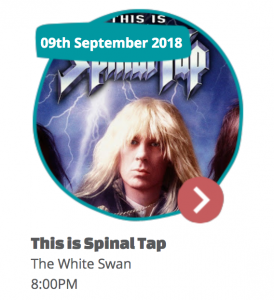 This is Spinal Tap (15)
OUTDOORS screening (bring something warm to wear and to sit on)
The White Swan, Charlton Village
Event 8pm (doors open from midday)
Sunday 9th September 2018
FREE (No ticket required – First come first served)
Thank you to our festival partner and sponsor

This is Spinal Tap
Bring something to sit on and whatever you need to stay warm and dry.
This Is Spinal Tap shines a light on the self-contained universe of a metal band struggling to get back on the charts, including everything from its complicated history of ups and downs, gold albums, name changes and undersold concert dates, along with the full host of requisite groupies, promoters, hangers-on and historians, sessions, release events and those special behind-the-scenes moments that keep it all real.
The 1984 American mockumentary is directed and co-written by Rob Reiner. It stars Christopher Guest, Michael McKean, and Harry Shearer as members of the fictional British heavy metal band Spinal Tap, and Reiner as Marty Di Bergi, a documentary filmmaker following the band on their US tour.
The film will be shown in the Swan's fabulous Beer Garden (and upstairs if it rains).
Local bloggers Deserter (Vince and Andy) will be hosting the event. They will do a short introduction. Fancy dress welcome!
[CWFFF event page] [Facebook event page]
Plan a journey with Citymapper (free online and phone app)
Buses stopping nearby: 53, 54, 380, 422, 486 at Bus Stop R (Charlton Village)
Rail: Charlton (exit station and head right, going up the hill – the 486 bus from outside the station (slightly to the left, opposite the Post Office) will take you up the hill (Charlton Church Lane), the 380 bus turns onto the hill a little further up. Take either bus to Stop R (Charlton Village) and cross the road.
[Live DEP / ARR info for Charlton]
Rail: Westcombe Park – you can take the 422 bus all the way to Stop R (Charlton Village).
[Live DEP / ARR info for Westcombe Park]
Area: Blackheath Royal Standard – 53, 54 and 422 are the best buses, all stop  at Stop R (Charlton Village). The 380 eventually stops at Stop R but it takes a  different and much longer route to get there.
Rail: Blackheath – the 54 bus will take you all the way there, alight at Stop R (Charlton Village). The 108 or 202 buses from the station will take you to Blackheath Royal Standard, as will the 380 from a little further up by The Crown pub.
[Live DEP / ARR info for Blackheath]
Rail / DLR: Woolwich Arsenal – buses 53, 54, 380, 422 and 486 will drop you off at Bus Stop Q which is a short walk from The White Swan.
[Live DEP / ARR info for Woolwich Arsenal rail]
[Live ARR info for Woolwich Arsenal DLR]
[Live DEP info for Woolwich Arsenal DLR]
Ferry: Woolwich Arsenal Pier – buses as for Rail / DLR above.
Ferry: North Greenwich Pier – buses as for tube, below
Tube: North Greenwich – 422 or 486 bus will drop you at Bus Stop R (see above). Other buses will only take you part of the way.
Cars: There is limited car-parking available.
[Contact The White Swan, scroll down that page for email / phone]
7 Sep – Fri, 7pm – The Greatest Showman, General Gordon Square OUTDOORS

CANCELLED due to circumstances beyond our control



7 Sep – Fri, 7.30pm – Yellow Submarine, Shrewsbury House Community Centre Library
8 Sep – Sat, 7.30pm – Mary Poppins, Charlton House OUTDOORS
9 Sep – Sun, 8pm – This is Spinal Tap, The White Swan OUTDOORS
10 Sep – Mon, 7pm – Silver Linings Playbook, STIR café SUBTITLES

10 Sep – Mon, 7.30pm – Arena – Stanley and his Daughters, artFix Woolwich
11 Sep – Tue, 7.30pm – Journey's End, Charlton House
11 Sep – Tue, 7.30pm – Get Out, artFix Woolwich SUBTITLES
11 Sep – Tue, 7.30pm – Jargon – More Than You Ever Wanted To Know & The Joy of Essex, Tramshed
12 Sep – Wed, 7.30pm – Snatch, The Star
12 Sep – Wed, 7.30pm – Do the Right Thing, artFix Woolwich SUBTITLES
13 Sep – Thu, 7.30pm – The Doo Dah Man, Starbucks
13 Sep – Thu, 7.30pm – 3rd edition of the International Short Film Competition, Charlton House
14 Sep – Fri, 6.30pm – Chitty Chitty Bang Bang, Shrewsbury House Community Centre Library SUBTITLES
14 Sep – Fri, 7.00pm – The Dish, Charlton House OUTDOORS SUBTITLES
14 Sep – Fri, 7.45pm – Young Frankenstein, Severndroog Castle OUTDOORS