Share

Friday 14th September 2018
Chitty Chitty Bang Bang
Free
(No ticket required - First come first served)
6:30PM (Doors open 5.30PM)
INDOOR:
Shrewsbury House Community Centre Library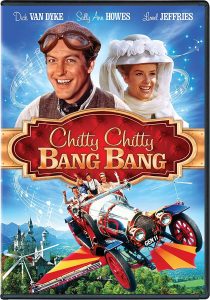 While truanting from school, young siblings Jeremy and Jemima meet the beautiful Truly Scrumptious (Sally Ann Howes), who falls for their widowed father, Caractacus Potts (Dick Van Dyke), and his various oddball inventions, including the family's noisy rebuilt car, Chitty Chitty Bang Bang.
One day at the beach, Caractacus tells Truly and the children a fanciful fable about the villainous Baron Bomburst (Gert Frobe) and his evil designs on the Potts family car.
Toot sweets and Truly Scrumptious snacks, and Baron Bomburst Bar open until 10pm.
Please note, this screening will have subtitles.