Share

Monday 10th September 2018
Arena – Stanley and his Daughters
Free
(No ticket required - First come first served)
7:30PM (Doors open 7.00PM)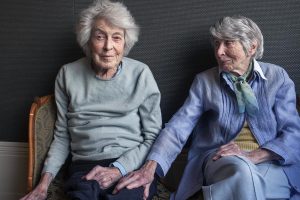 'Children of geniuses tend to have a rather hard time of it. If you're a genius you have to be a bit tough', says Unity Spencer, daughter of Stanley Spencer, one of the most important 20th-century British artists.
Stanley's visionary art, his obsession with his work and the drama of a private life described as 'the most bizarre domestic soap opera in the history of British art' wreaked havoc on his family.
The break-up with his first wife, fellow artist Hilda Carline, was traumatic for his daughters Unity and Shirin. So too, was the fiasco of their father's second marriage to self-confessed lesbian, Patricia Preece.
The daughter's separation, post-divorce, took root in their lives and only now, in old age, have they come together again. Last summer, Unity packed up her Clapham home of 40 years, boxed up her old life, her father's drawings, sketchbooks and letters and moved to Wales to be close to Shirin. With Unity's son John, Stanley's grandson, they plan to live altogether.
The film explores the sisters' relationship – fractured, fraught but ultimately loving – as they try to understand and reclaim their father and investigate their family's archaeology. Unity, now 87, and Shirin, 91, begin a late rapprochement and attempt to become a family again as they build a new life together. Through them, the film provides an insight into Stanley's life, motivations and his art – offering a completely fresh take on one of Britain's and the 20th century's greatest artists.
With access to Stanley's and Hilda's correspondence, the film reflects on an extraordinary cache written over 30 years that John Spencer is painstakingly transcribing. These, together with a further nine years of letters which Stanley wrote to Hilda after her death, run to millions of words.
The event will be attended by the director Francis Hanly, John Spencer and if her health allows her, Shirin Spencer.