Share

Friday 14th September 2018
Young Frankenstein
Free
(No ticket required - First come first served)
7:45PM (Doors open 7.30PM)
OUTDOOR:
Severndroog Castle
Bring something to sit on and whatever you need to stay warm and dry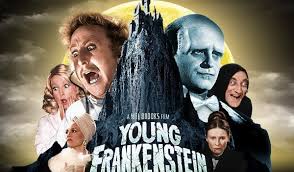 An American grandson of the infamous scientist in invited to Transylvania, where he discovers the process that reanimates a dead body. Respected medical lecturer Dr Frederick Frankenstein learns that he has inherited his infamous grandfather's estate in Transylvania.
Arriving at the castle, Dr Frankenstein soon begins to recreate his grandfather's experiments with the help of servants. After he creates his own monster, new complications ensue with the arrival of the doctor's fiancée.
There will be an opportunity to visit the castle's viewing platform for it's amazing views of London. Also, the café will be serving drinks — inc. cocktails — and light meals