Share Come and see Mary Poppins (free) on Sat 8 Sep @charlton_house with @CWFilmFestival
We have a new addition! It's a FREE open-air screening of Mary Poppins at the back of Charlton House at 7.30pm on Saturday 8 September. There are  17 films screening across the Charlton and Woolwich Free Film Festival, now in it's third year. (All films are free to attend).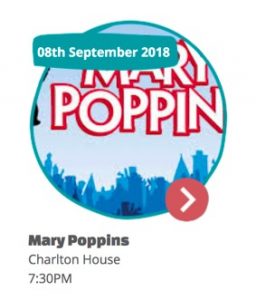 Mary Poppins (PG)
OUTDOORS screening (bring something warm to wear and to sit on)
Charlton House
Doors 6.3opm, event 7.30pm
Saturday 8th September 2018
Mary Poppins
When Jane (Karen Dotrice) and Michael (Matthew Garber), the children of the wealthy and uptight Banks family, are faced with the prospect of a new nanny, they are pleasantly surprised by the arrival of the magical Mary Poppins (Julie Andrews). Embarking on a series of fantastical adventures with Mary and her Cockney performer friend, Bert (Dick Van Dyke), the siblings try to pass on some of their nanny's sunny attitude to their preoccupied parents (David Tomlinson, Glynis Johns).
Supercalifagilisticexpialidocious!
[CWFFF event page] [Facebook event page]
Other films showing at Charlton House
Journey's End (11 Sep), 3rd edition of the International Short Film Competition, (13 Sep), The Dish (14 Sep) OUTDOORS
Plan a journey with Citymapper (free online and phone app)
Buses stopping nearby: 53, 54, 380, 422, 486
Rail: Charlton (exit station and head right, going up the hill – the 486 bus from outside the station (slightly to the left, opposite the Post Office) will take you up the hill (Charlton Church Lane), the 380 bus turns onto the hill a little further up. The best bus stop at which to alight is Stop S (Warren Walk) and continue walking upwards to Charlton House, or continue round past the church and stop a little further along at Stop R (Charlton Village) and walk back on the flat bit. [Live DEP / ARR info for Charlton]
Rail: Westcombe Park – you can take the 422 bus all the way to Charlton House and stop either the Charlton Road Victoria Way bus stop (just before Charlton House) or at Stop R (Charlton Village).
[Live DEP / ARR info for Westcombe Park]
Area: Blackheath Royal Standard – 53, 54 and 422 are the best buses, all stop at Charlton Road Victoria Way bus stop (just before Charlton House) or at Stop R (Charlton Village). The 380 eventually stops at Stop R but it takes a  different and much longer route to get there.
Rail: Blackheath – the 54 bus will take you all the way there, alight at the Charlton Road Victoria Way bus stop (just before Charlton House) or at Stop R (Charlton Village). The 108 or 202 buses from the station will take you to Blackheath Royal Standard, as will the 380 from a little further up by The Crown pub.
[Live DEP / ARR info for Blackheath]
Rail / DLR: Woolwich Arsenal – buses 53, 54 and 422 will drop you off at Bus Stop P which is right outside Charlton House. Beware buses 380 or 486 which will drop you at Bus Stop Q (with a short walk) as after that they turn RIGHT into Charlton Church Lane and head in the wrong direction.
[Live DEP / ARR info for Woolwich Arsenal rail]
[Live ARR info for Woolwich Arsenal DLR]
[Live DEP info for Woolwich Arsenal DLR]
Ferry: Woolwich Arsenal Pier – buses as for Rail / DLR above.
Ferry: North Greenwich Pier – buses as for tube, below
Tube: North Greenwich – 422 or 486 bus will drop you at Bus Stop R (see above). Other buses will only take you part of the way.
Cars: There is limited car-parking available, including for blue badge holders (venue has an accessible loo on ground floor).
[Contact Charlton House]
7 Sep – Fri, 7pm – The Greatest Showman, General Gordon Square OUTDOORS

CANCELLED due to events beyond our control



7 Sep – Fri, 7.30pm – Yellow Submarine, Shrewsbury House Community Centre Library
8 Sep – Sat, 7.30pm – Mary Poppins, Charlton House OUTDOORS

9 Sep – Sun, 8pm – This is Spinal Tap, The White Swan OUTDOORS
10 Sep – Mon, 7pm – Silver Linings Playbook, STIR café [subtitled]
10 Sep – Mon, 7.30pm – Arena – Stanley and his Daughters, artFix Woolwich
11 Sep – Tue, 7.30pm – Journey's End, Charlton House
11 Sep – Tue, 7.30pm – Get Out, artFix Woolwich [subtitled]
11 Sep – Tue, 7.30pm – Jargon – More Than You Ever Wanted To Know & The Joy of Essex, Tramshed
12 Sep – Wed, 7.30pm – Snatch, The Star
12 Sep – Wed, 7.30pm – Do the Right Thing, artFix Woolwich [subtitled]
13 Sep – Thu, 7.30pm – The Doo Dah Man, Starbucks
13 Sep – Thu, 7.30pm – 3rd edition of the International Short Film Competition, Charlton House
14 Sep – Fri, 6.30pm – Chitty Chitty Bang Bang, Shrewsbury House Community Centre Library [subtitled]
14 Sep – Fri, 7.00pm – The Dish, Charlton House OUTDOORS [subtitled]

14 Sep – Fri, 7.45pm – Young Frankenstein, Severndroog Castle OUTDOORS
15 Sep – Fri, 7.00pm – Sister Act, General Gordon Square OUTDOORS