Share Opening night at Charlton & Woolwich Free Film Festival – Yellow Submarine at Shrewsbury House
Let the FREE films begin! For the opening night (Friday 7 September) of our Charlton and Woolwich Free Film Festival, now in it's third year, we have two ONE fabulous films for you to enjoy. Click on the Facebook links to let us know you're coming, and tell your friends. All films are free.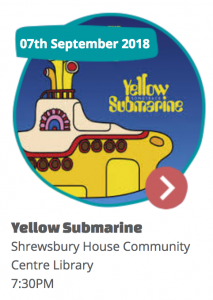 Yellow Submarine (U)
INDOORS screening
Shooters Hill – Shrewsbury House
Doors 6.30pm, event 7.30pm
The Greatest Showman (PG) – CANCELLED due to circs beyond our countrol
OUTDOORS screening (bring something warm to wear and to sit on)
Big Screen Woolwich – General Gordon Square (no alcohol please)
Doors 6.3opm, event 7pm
Yellow Submarine
As part of the 50th Anniversary celebrations, one or our two openers this year is YELLOW SUBMARINE, featuring the fab four in a battle to save Pepperlandia, and packed with classic tunes.
The music-loving inhabitants of Pepperland are under siege by the Blue Meanies, a nasty group of music-hating creatures. The Lord Mayor of Pepperland (Dick Emery) dispatches sailor Old Fred (Lance Percival) to Liverpool, England, where he is to recruit the help of the Beatles (John Lennon, Paul McCartney, George Harrison, Ringo Starr). The sympathetic Beatles ride a yellow submarine to the occupied Pepperland, where the Blue Meanies have no chance against the Fab Four's groovy tunes.
1960's Sgt Pepper Fancy Dress, there will be prizes!
Bar and 1960's disco until 11pm.
[CWFFF event page] [Facebook event page]
Other films showing at Shrewsbury House
Chitty Chitty Bang Bang, (14 Sep)
Travel options
Buses stopping nearby: 89 (N89), 244, 486
Car parking can be reserved for blue badge holders (venue has a ramp and wheelchair-accessible loo on ground floor). [Contact Shrewsbury House]
Plan a journey with Citymapper (free online and phone app)
The Greatest Showman
– CANCELLED
The second of our two openers at this years festival is THE GREATEST SHOWMAN with Hugh Jackman (as P.T. Barnum) in this all singing all dancing feel-good epic inspired by Barnum's creation of the Barnum & Bailey Circus.
The film celebrates the birth of show business & tells of a visionary who rose from nothing to create a spectacle that became a worldwide sensation.
Orphaned, penniless but ambitious and with a mind crammed with imagination and fresh ideas, the American Phineas Taylor Barnum will always be remembered as the man with the gift to effortlessly blur the line between reality and fiction. Thirsty for innovation and hungry for success, the son of a tailor will manage to open a wax museum but will soon shift focus to the unique and peculiar, introducing extraordinary, never-seen-before live acts on the circus stage. Some will call Barnum's wide collection of oddities, a freak show; however, when the obsessed showman gambles everything on the opera singer Jenny Lind to appeal to a high-brow audience, he will somehow lose sight of the most important aspect of his life: his family.
Showing on the big screen in General Gordon Square, on September 7th, from 7pm. Bring something warm to wear and any food and drink (although alcohol is not permitted in the square).
[CWFFF event page] [Facebook event page]
Other films showing at General Gordon Square
Sister Act (15 Sep) – sadly also CANCELLED! No films at General Gordon Square
Travel options
Nearest pier: Woolwich Arsenal Pier, with Thames Clippers ferries
Rail / DLR: Woolwich Arsenal (zone 4)
Buses: LOTS (pdf from National Rail)
Plan a journey with Citymapper (free online and phone app)
7 Sep – Fri, 7pm – The Greatest Showman, General Gordon Square OUTDOORS
7 Sep – Fri, 7.30pm – Yellow Submarine, Shrewsbury House Community Centre Library
8 Sep – Sat, 7.30pm – Mary Poppins, Charlton House OUTDOORS
9 Sep – Sun, 8pm – This is Spinal Tap, The White Swan
10 Sep – Mon, 7pm – Silver Linings Playbook, STIR café
10 Sep – Mon, 7.30pm – Arena – Stanley and his Daughters, artFix Woolwich
11 Sep – Tue, 7.30pm – Journey's End, Charlton House
11 Sep – Tue, 7.30pm – Get Out, artFix Woolwich
11 Sep – Tue, 7.30pm – Jargon – More Than You Ever Wanted To Know & The Joy of Essex, Tramshed
12 Sep – Wed, 7.30pm – Snatch, The Star
12 Sep – Wed, 7.30pm – Do the Right Thing, artFix Woolwich
13 Sep – Thu, 7.30pm – The Doo Dah Man, Starbucks
13 Sep – Thu, 7.30pm – 3rd edition of the International Short Film Competition, Charlton House
14 Sep – Fri, 6.30pm – Chitty Chitty Bang Bang, Shrewsbury House Community Centre Library
14 Sep – Fri, 7.00pm – The Dish, Charlton House OUTDOORS
14 Sep – Fri, 7.45pm – Young Frankenstein, Severndroog Castle OUTDOORS
15 Sep – Fri, 7.00pm – Sister Act, General Gordon Square OUTDOORS