Share

Sunday 08th September 2019
The Bridge On The River Kwai
Free
(No ticket required - First come first served)
8:00PM (Doors open From 7.00PM)
OUTDOOR:
St George's Garrison Church, Woolwich
Bring something to sit on and whatever you need to stay warm and dry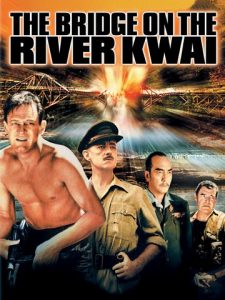 The Bridge on the River Kwai opens in a Japanese prisoner-of-war camp in Burma in 1943, where a battle of wills rages between camp commander Colonel Saito (Sessue Hayakawa) and newly arrived British colonel Nicholson (Alec Guinness). Saito insists that Nicholson order his men to build a bridge over the river Kwai, which will be used to transport Japanese munitions. Nicholson refuses, despite all the various "persuasive" devices at Saito's disposal. Finally, Nicholson agrees, not so much to cooperate with his captor as to provide a morale-boosting project for the military engineers under his command. The colonel will prove that, by building a better bridge than Saito's men could build, the British soldier is a superior being even when under the thumb of the enemy. As the bridge goes up, Nicholson becomes obsessed with completing it to perfection, eventually losing sight of the fact that it will benefit the Japanese.
Meanwhile, American POW Shears (William Holden), having escaped from the camp, agrees to save himself from a court martial by leading a group of British soldiers back to the camp to destroy Nicholson's bridge. Upon his return, Shears realizes that Nicholson's mania to complete his project has driven him mad. Filmed in Ceylon, Bridge on the River Kwai won seven Academy Awards, including Best Picture, Best Director for the legendary British filmmaker David Lean, and Best Actor for Guinness.