Share

Saturday 17th September 2022
Dune (12/12A) – FREE, Outside, Subtitled
Free
(No ticket required - First come first served)
8:00PM
OUTDOOR:
St George's Garrison Church, Woolwich
Bring something to sit on and whatever you need to stay warm and dry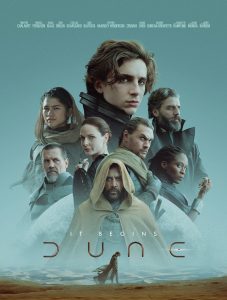 A free screening of Dune at St. George's Garrison Church, Woolwich, Saturday 17th September 2022, 8pm as part of the Charlton and Woolwich Free Film Festival.
Runtime: 2h 35m
OUTDOORS
Doors: 7.30pm, Film: 8.00pm
"Dune" tells the story of Paul Atreides, a brilliant and gifted young man born into a great destiny beyond his understanding, who must travel to the most dangerous planet in the universe to ensure the future of his family and his people. (synopsis from FilmBankMedia).
DUNE is a sci-fi drama in which a noble household are tasked with overseeing the harvesting of a rare commodity on a desert planet, but their role makes them the target of multiple adversaries. (synopsis from BBFC).
BBFC rating – 12/12A, moderate violence, threat, bloody images