Share

Monday 24th October 2016
Pressure (Black History Month)
Tickets are required for this event - see below
8:00PM
Pressure is a powerful portrait of inter-generational tensions between first and second-generation West Indian migrants in London's Notting Hill area.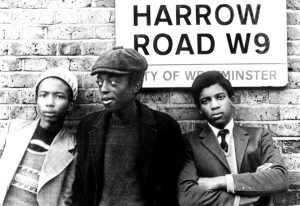 Set in Ladbroke Grove, West London, an area with a large Caribbean population since the 1950s, Pressure explores the assimilation (or otherwise) of Caribbean people into British society.
The film focuses on one black teenager, and his attempt to find his way in a white-dominated society. As Anthony's initially high hopes are repeatedly dashed – he cannot find work anywhere; potential employers treat him with suspicion because of his colour – his sense of alienation grows. While his family come from Trinidad, Anthony was born in Britain and is British. When a Black awareness meeting is violently raided by the police, and Anthony sees these 'organised forces of repression' at work, his political awakening begins.
Pressure is a product of its time, but the issues and themes it explores remain relevant to the black experience in Britain today, including the cycle of educational deprivation, poverty, unemployment and antisocial behaviour.
£5.00 / £3.50 concs
Bar and refreshments