Share

Wednesday 26th April 2023
Voyagers: a documentary/Towering Hamlets plus director Q&A
Free
(No ticket required - First come first served)
6:00PM
Two films from director Has San, who will be present a Q&A after the screenings.
Towering Hamlets (20 mins)
Shot in the summer of 2020 during the COVID-19 pandemic, the film archives the sense of community in Tower Hamlets as the Black Lives Matter movement spills onto the streets.
Voyagers: a documentary (40 mins)
Two undocumented, unnamed humans recount their journey across Libya to Italy by sea while the film-maker reflects on their European welcome through interviews, spoken word and archive footage. This film will be captioned.
Q&A with Has San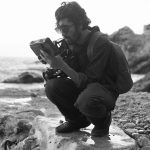 Inspired by greats like Ken Loach, Gianfranco Rossi and Safi Faye, Has's films merge documentary and fiction, and often focus on what it is to have community. By threading together testimony and spoken word, he questions how we speak about that which we do not know, and how a film-maker navigates their positionality towards those filmed.