Share

Friday 21st April 2023
Xanadu and '80's roller disco!
Tickets are required for this event - see below
7:00PM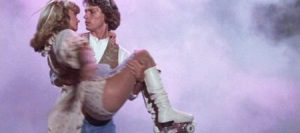 Join us for the first night of the NXDFFF when we'll be launching in truly retro style with big hair, slick moves and fancy footwork, not to mention a bar and disco!
A beautiful muse inspires an artist and his older friend to convert a dilapidated auditorium into a lavish rollerskating club in this surreal cult classic starring Olivia Newton-John, Michael Beck and Gene Kelly. The screening will be captioned.
We'll be taking the award-winning soundtrack straight to the rink with 90 minutes of roller disco post screening! (bring your own skates or just come on foot!).
Tickets are free but on a first come first served basis. To guarantee your seat please book here
Raül Leiva with his project ÜHS mixes video with an analogue video mixer and 'obsolete' technologies such as VHS VCRs, camcorders…because all this technology is still useful and deserves a second chance.
Find out more here uhs.raulleiva.com