Share

Thursday 14th December 2017
The Italian Job
Free
(No ticket required - First come first served)
8:00PM (Doors open 7:30PM)
INDOOR:
South London Makerspace
Come down to the South London Makerspace on Thursday 14th December and enjoy the all-time 60s cult comedy classic heist film with the craziest car chase in movie history and an incredible cliffhanger finale (no pun intended). The Italian Job is the caper movie to beat any Christmas blues.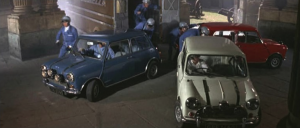 Having just left prison, small time mobster Charlie Crocker (Michael Caine) is looking to do another job. Aided and abetted by top criminal mastermind Mr. Bridger (Noel Coward), Charlie heads to Italy with a gang of cockney villains including Professor Peach the lecherous computer expert (Benny Hill). The plan is to bring Turin to a standstill to steal $4 million dollars of gold bullion from under the noses of the Turin police (and mafia!) and then somehow escape.
If you love your Aston Martin DB4s, Jaguar E-Types, Lamborghini Miuras, Alfa Romeo Giulias and of course the film's heroes the red, white and blue Austin Mini Cooper S's then you won't be disappointed by the car chases and enthralling stunt driving that takes in the crowded streets of Turin (they naughtily created unauthorised traffic jams for cinematic effect during filming!), churches, a weir, underground sewers and the roof of Fiat's Ligotto building.
The classic line "You're only supposed to blow the bloody doors off!" was filmed up the road at the Crystal Palace race track, so look out for the Crystal Palace transmitter! Not a lot of people know that. Sorry, we couldn't resist.
With a great score by Quincy Jones you will be guaranteed to be singing "The Self Preservation Society" all the way home.
Before you leave home we encourage you to grab some supplies or any spare change to help the Herne Hill Free Film Festival help the Norwood and Brixton Foodbank make as many happy Christmases as possible in the local area this year. The Herne Hill Free Film Festival will be tweeting information about urgently needed items so stay tuned on Twitter to @HerneHillFilm.
Click here to see the trailer!