Share We're back for 2022!
Less than a month to go until the fabulous New Cross & Deptford Free Film Festival kicks off once more!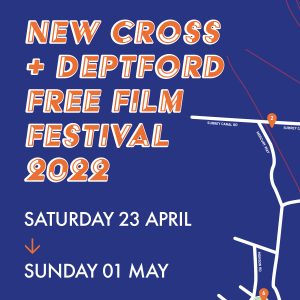 We are showing a host of great films brought together by a small team of local volunteers who have been working their socks off to put the programme together for you since last November.
Download the brochure here, or check the film listings here.
Most importantly, ALL SCREENINGS ARE FREE!
(You do need tickets for a couple of venues – be sure to check the listings – but there's no charge.)
How are funded? We beg and borrow (but never steal) to put each event together – but it doesn't happen overnight and it costs around £5k to cover the film licences, insurance, DVDs and print costs each time the festival happens. Lots of people also donate their time and services for free.
We'll be asking you to dig deep and support us in any way you can – either by donating cash at each film showing, by making a donation through our handheld card readers, or by donating online – our donate button is coming soon! 
We also rely on our community to pull together and volunteer to find venues, seek out films, organise and set up equipment, publicise the events and help to run them. Could you offer a couple of hours of your time to help out at your local screening and make things happen?
To get involved, email nxdfff@freefilmfestivals.org, follow us at instagram.com/nxdfff at @nxdfff on Twitter or on our Facebook page to find out more.