Share Paddington 2 (PG): BBC One, 6.25pm on Mon 31st August 2020 (Bank Holiday Monday) – free
We'd really hoped to screen Paddington 2 ourselves this year, on the Big Screen in Woolwich's General Gordon Square, as a family-friendly early evening open air extravaganza… but it's probably not very safe to do so at the moment. For the same reason we're not running the Charlton and Woolwich Free Film Festival this year as we want to keep everyone safe in the hope that everything will be back to (the new) normal in September 2021.
It may be possible for us to screen a one-off later in 2020 and if so we'll add more information here, on Twitter and on Facebook.
But there is some good news for fans of Paddington 2…
Rather helpfully BBC One has stepped in with its own screening on Bank Holiday Monday, for England and Wales, and while this is (obviously!) not an official Charlton & Woolwich Free Film Festival event we thought we'd tell you about it!


Paddington 2 (PG)
Indoors (yours), subtitled (if you want)
Film starts at 6.25pm, BBC One
Twitter hashtag: #Paddington2
Recommended snacks: popcorn, marmalade sandwiches or you might like to create these Paddington2 cupcakes.
Watch on the day
You can watch Paddington 2 on your television, or online at the BBC's iPlayer channel for BBC One: https://www.bbc.co.uk/bbcone (to watch online you'll need to create a free account and log in to do this, and confirm that you have a television licence).
Or watch it later
If you're doing other things on the day and want to catch up later check out the BBC's page on Paddington 2.
If you've never seen Paddington 2 before you're in for a treat. Here's Wendy Ide's review in The Guardian. and Mark Kermode's review from Kermode and Mayo's 'Wittertainment' on 5 Live.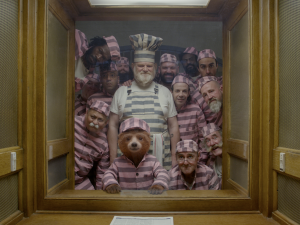 Image credits: Studio Canal