Share Charlton and Woolwich in the movies
As the countdown begins for the Charlton and Woolwich Free Film Festival, we thought we would have a look at SE7 and SE18 captured on film.
Oxleas Wood SE18
Director/Screenwriter Edgar Wright is best known for his Three Flavours Cornetto film trilogy, consisting of Shaun of the Dead (2004), Hot Fuzz (2007) and The World's End (2013) made with Simon Pegg, Nick Frost and Nira Park.
South East London has a strong connection with the trilogy with two of the three being filmed in or close to Charlton and Woolwich. Key parts of Hot Fuzz were filmed at Oxleas Woods SE18. Oxleas Wood is one of the few remaining areas of ancient deciduous forest in Eltham in the Royal Borough of Greenwich, in southeast London.
In addition, the central pub scene in Shaun of the Dead, though not filmed in SE7 or SE18, was filmed very close to these neighbourhoods in New Cross.
Maryon Park, SE7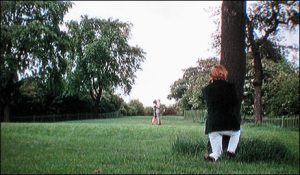 This hidden gem located in the heart of SE7 near Charlton Village and Charlton Lane features a local nature reserve. Though it was not identified in name, Maryon Park was a filming location for pivotal scenes in 60s filmic classic Blow-Up.
This drama, mystery thriller captures a slice of swinging 60s London life and was directed by Michelangelo Antonioni. It starred David Hemmings, Sarah Miles and Vanessa Redgrave. Critically acclaimed and a success at the box office, it has widely been considered a 60s masterpiece in filmmaking.