Share

Saturday 05th May 2018
In Bruges
Free
(No ticket required - First come first served)
8:00PM
OUTDOOR:
Dog and Bell Pub
Bring something to sit on and whatever you need to stay warm and dry
Shoot first. Sightsee later – It's that film you've been meaning to watch!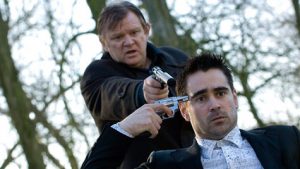 Colin Farrell and Brendan Gleeson are two hitmen, holed up in the beautiful but boring city of Bruges, looking for distraction and contemplating life and death while awaiting details of their next target from psychotic boss, played by Ralph Fiennes.
Martin McDonagh (Three Billboards Outside Ebbing, Missouri) directs this 2008 black comedy. The best films waste no time, and In Bruges  hits the ground running.
Film screening will be in the garden but there will be a cover and heaters.
Don't miss Dave's DVD Swap. Dave will have a selection of  crime/ black comedy films to swap. Bring your DVD's to swap.
__________________________________________
Is there a movie scene that has personal significance for you? Caroline Jupp invites you to talk about a moment in a film, from the iconic to the obscure that has particular meaning for you.
Share your thoughts with Caroline. She will be at the Dog & Bell on 5/5/18 from 7.15-10.30pm. For more information about how to take part, please visit www.carolinejupp.co.uk/blog