Share

Saturday 18th May 2019
Wreck it Ralph 2: Ralph Breaks The Internet
Free
(No ticket required - First come first served)
4:00PM (Doors open 3:00PM)
Ralph's first outing in 2012 – described as a Who Framed Roger Rabbit for the joystick generation – became a surprise treat, combining strolls down gaming memory lane with memorable new characters worthy of Disney's past. It was kinetic, silly, loaded with heart and visually, the equivalent of a sugar trip overload in a bath of soda pop… and its fortunate for us that its sequel, Ralph Breaks The Internet, treads familiar ground.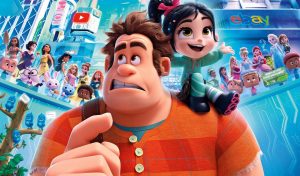 In this second outing Ralph and fellow misfit Vanellope von Schweetz risk everything travelling to the World Wide Web in search of a replacement part to save Vanellope's video game, Sugar Rush (the arcade game that Ralph entered in the first film while flying an out-of-control shuttle from Hero's Duty… hey, this is Disney after all people, and it makes a whole lot more sense on screen!). In way over their heads, Ralph and Vanellope must rely on the citizens of the internet – the netizens – to help navigate their way, including an entrepreneur named Yesss, who is the head algorithm and the heart and soul of trend-making site BuzzzTube.
We know you probably think it's just for kids, but like any good animation these days it has something for all of us with receding hair too. Bilge Ebiri of The New York Times said that while it "might look like just another adorable funny animated family film… it also connects to our current reality in ways that are downright bone-chilling". These deeper themes are probably lost on the younger audience members but the "incisive satire about the ways that a life lived online makes monsters of us all" might be something you want to consider when you look up from your smartphone on the day.
Anyway, enough seriousness. If our little description above isn't enough to convince you to come along on 18 May you might want to note it was narrowly pipped to the Oscar for Best Animated Feature this year (by Spider-Man: Into the Spider-Verse, *humble brag* which we're showing on 28 May upstairs at Herne Hill Station) and it was also nominated for almost every other animated award going in 2018. So it's been endorsed by the Academy and the industry. And they all really absolutely definitely always know their stuff. Always.
All our kids' screenings this year are made possible by the generous support of Apple Tree Children's Café, Kinder La La and Sweet Carolina.
See the trailer here!

As part of this year's Herne Hill Free Film Festival we are excited to be partnering with the Maudsley Charity, to help them promote positive change in the world of mental health and to make a real difference to the treatment of mental health in our area. We will be collecting donations at each of our screenings to support their local activities, so if you can, any money that you can spare would be greatly appreciated to help this wonderful charity continue the admirable work they do.