Share

Saturday 22nd April 2017
Willy Wonka and the Chocolate Factory – with Electric Pedals
Free
(No ticket required - First come first served)
8:00PM
OUTDOOR:
Telegraph Hill Upper Park
Bring something to sit on and whatever you need to stay warm and dry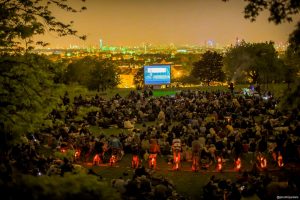 Our open air bike-powered classic takes you on a whirlwind tour of Willy's incredible, edible realm of chocolate waterfalls, Oompa-Loompas and industrial-sized confections
We will also have our own Wonka Tribute sweet stall complete with limited wrapped editions of the Famous Fudge Mellow Bar and The Wonka Bar itself! One lucky bar will have inside a Golden Ticket and the lucky winner will get a luxury film picnic hamper filled with goodies, including Popcorn & Hot Chocolate to share.
Plus short film – Alive Archive As Now. A film about local community run library New Cross Learning and the support it gives. This film by artist Margaret Jennings asks who we are and where we are going.
Wrap up warm bring something to sit on and enjoy this much loved musical. Plus bar, BBQ.