Share

Tuesday 07th May 2019
Wild at Heart
Free
(No ticket required - First come first served)
7:00PM
INDOOR:
The Flying Duck – Glasgow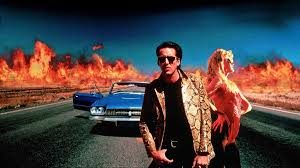 Glasgow West End Free Film Festival is back and ready to serve you some cinematic adventures starting with David Lynch's Wild at Heart (1990).
Wild at Heart is a road movie and a love story like Bonnie & Clyde, with Nicolas Cage and Laura Dern running across the South, chased by two of her mother's lovers with murderous intent. He is a sailor just out of prison, a low-life rock and roller who would be a rebel if only he knew what conventional life was all about in the first place. She is a screwed-up teenager, raped at 13 and now reacting against the witch-like angst of a mother who planned her father's murder and is now determined to protect her in similar bloody fashion. Everyone has a worm in the bud, eating away not just at their happiness but their sanity.
Come along and take a friend with you, it's a free delight after all!