Share

Saturday 29th April 2017
Westworld
Free
(No ticket required - First come first served)
8:00PM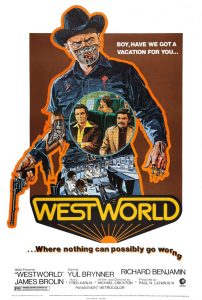 Boy, have we got a film for you! Yul Brynner stars as a gunslinging android in this cult sci-fi/western from 1973.
Set in an adult-themed amusement park where $1,000 a day buys you anything — however, things start to go badly wrong for our guests when the robots malfunction.
We continue the night until late with the Funkwars crew providing an eclectic mix of bleeps, beats and improvised electronic tomfoolery.
Feel free to dress for the occasion, but no real firearms please!