Share

Saturday 06th May 2017
Victoria
Free
(No ticket required - First come first served)
8:30PM (Doors open 7:45PM)
OUTDOOR:
Judith Kerr Primary School
Bring something to sit on and whatever you need to stay warm and dry
Shot in a single take during the early hours of 27 April 2014 in Berlin, and with most of the dialogue improvised by the small cast, Victoria received wide acclaim on its release in 2015 and won the Silver Bear for Cinematography at the 2015 Berlin International Film Festival. Over a few hours the film's young heroine goes from dancing alone in a club to flirting, an impromptu piano recital, peril and reckless criminality. So just like a regular Wednesday night in Herne Hill in that case. Anyway, the Guardian said "one shot, two hours, total triumph". We just say come to the Judith Kerr Primary School on 6 May at 7:30pm. 
And if that summary isn't enough to convince you to come down on 6 May we're gonna have the 3Bs to help make an evening of it. Yes, that right. Beer, bratwurst and a band. B-b-b-bring it on!
This screening is being held in the grounds of a primary school on its playground. Please help to make this a non-smoking event!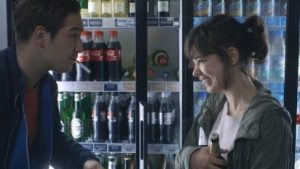 After dancing alone in a techno club in Berlin's Mitte district into the early hours Victoria runs into a pack of young men who offer to show her the real Berlin. Initially joining them for a drink on a nearby rooftop, Victoria's evening takes a twist and a turn when she finds herself in an underground parking lot with same group as they are tasked with robbing a bank to repay a debt to a local gangster. Victoria, already in way over her head, agrees to act as their driver and from this point on the film goes full-throttle into a breakneck, high-stakes heist thriller.
Shot in a single take between 4:30am and 7:00am in the early hours of 27 April 2014 Victoria (although the finished product was actually the third of three takes the team had budget to film) Victoria was received well on its release in 2015. While it is not the first one take film to be made, others include Alexander Sokurov's Russian Ark and Alfred Hitchcock's Rope, it is the first to take in more than one location. In fact Victoria criss-crosses an amazing 22 separate Berlin locations in its 138 minutes.
When Spike Lee heard about Victoria he simply said "I've got to see this film" as he didn't believe it was even possible. We assure you that it is, and you can see for yourself at Judith Kerr Primary School on 6 May at 7:30pm.
Click here to see the trailer.