Share

Saturday 16th December 2017
The Umbrellas of Cherbourg
Free
(No ticket required - First come first served)
7:30PM (Doors open 6:30PM)
INDOOR:
All Saints Church
After the success of the Herne Hill Free Film Festival's screening of La La Land in May, we know that SE24 loves a good musical. What better choice for Crimbo then than the film that some say was an inspiration for the recent record breaker, which also just happened to feature two young lovers, vivid colours and plenty of jazz music but which was made half a century ago in France. A kind of Ooh-La-La Land, S'il Vous Plait? Oh, and did we mention it has a climactic Christmassy crescendo?
The Umbrellas of Cherbourg, directed by Jacques Demy and released in 1964, has been described as a cinematic opera. Or, in Demy's words, a film in song with all dialogue being sung by the actors throughout the movie. It won 3 awards at Cannes in 1964, including the Grand Prize for best film, and a wider release saw it nominated for 4 Oscars the following year, including Best Screenplay and Best Soundtrack for the lush musical score supplied by Gallic legend Michael Legrand.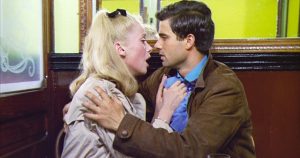 The film looks at life, love, chance and the effects of the decisions we make, right and sometimes wrong. It's the second of 3 films that Demy made through the 1960's that share some common characters. This was the first of that set to appear in vivid colour, which makes the film a sumptuous visual spectacle, complemented by Legrand's fine musical score.
Split into 3 acts, the film begins in November 1957 with young mechanic Guy (Nino Castelnuovo) dating Genevieve (Catherine Deneuve) who works in her mother's umbrella shop, and she's not happy about the relationship. Their tentative romance is however put on hold after Guy gets called up to fight in Algeria, with the subsequent acts taking us to December 1963 and following the many twists and turns of Guy's and Genevieve's intervening lives.
So on 16 December let those umbrellas twirl and get a bit of ooh-la-la-land from this fine film, offering a stunning visual and musical treat at Xmas in one the most visually spectacular venues in Herne Hill!
Before you leave home we encourage you to grab some supplies or any spare change to help the Herne Hill Free Film Festival help the Norwood and Brixton Foodbank make as many happy Christmases as possible in the local area this year. The Herne Hill Free Film Festival will be tweeting information about urgently needed items so stay tuned on Twitter to @HerneHillFilm.
Click here to see the trailer!