Share

Thursday 05th September 2019
LONDON PREMIERE: The River and the Wall
Free
(No ticket required - First come first served)
8:30PM (Doors open 8PM)
INDOOR:
Peckhamplex Cinema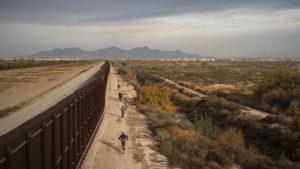 "It's a river before it's a border"…
The opening event of 2019's #PNFFF will be the LONDON PREMIERE of The River and the Wall at Peckhamplex, Thursday 5 September at 8.30pm.
The River and the Wall follows five friends as they venture into the unknown wilds of the Texas borderlands and travel 1200 miles along the Rio Grande.
On horses, mountain bikes and canoes, they set out to document the wildlife and landscape, and to explore the potential impact of a wall on the natural environment. However, as the wilderness gives way to the more populated and heavily trafficked Lower Rio Grande Valley, they come face-to-face with the human side of the immigration debate and enter uncharted emotional waters.
All advance tickets have now been booked. More tickets available from 6pm on Thursday. First come, first served.
ABOUT THE VENUE:
Voted Best Value Cinema by Time Out magazine and Best Entertainment Venue in SE15 by Love London Awards, the Peckhamplex is an independent six screen cinema established in 1994, screening mainstream, art house, foreign language and independent films.