Share

Monday 08th May 2017
Train to Busan
Free
(No ticket required - First come first served)
8:00PM (Doors open 7:15PM)
If you thought snakes on a plane had potential but was too tame, you may want to come to The Half Moon on 8 May at 8pm to see zombies on a train. And at the station. And frankly everywhere. In South Korea. As the Herne Hill Free Film Festival screens the most successful South Korean film ever made, Train to Busan.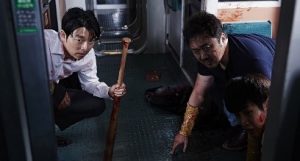 As a fairly traditional zombie film – albeit one with a South Korean heritage – Train to Busan is not a film that necessarily warrants a long introduction. Shortly after the titular train leaves its station in Seoul (you guessed it, on its way to Busan) a convulsing young-woman with a bite would to her leg turns into a zombie and attacks a train attendant. He then turns into a zombie and, shock horror, attacks some other people. Who turn into zombies. These zombies then attack… ok, you get the picture. Anyway before long the train is riddled with zombies and the few remaining survivors have to beat a hasty retreat to any and every safe area available to them as the train trundles towards its destination, and the inevitable quarantine zone, in Busan.
This is our first screening at The Half Moon since the great flood of 2012 and we could not be more excited to be back. So please join us on 8 May at 8pm for an evening of blood and subtitles, and clear evidence that a morning commute into Blackfriars from Herne Hill really could be worse.
Click here to see the trailer.