Share

Friday 25th May 2018
Three Billboards Outside Ebbing, Missouri
Free
(No ticket required - First come first served)
9:00PM (Doors open 7:30PM)
OUTDOOR:
Judith Kerr Primary School
Bring something to sit on and whatever you need to stay warm and dry
We loved Three Billboards Outside Ebbing, Missouri as soon as we saw it. Luckily, as it was only released on 12th January 2018 in the UK, our licensing wishes are granted. The film becomes available to screen four days before our event at Judith Kerr on 25 May, which is sure to be one of the most popular screenings we put on this year. It's got Oscars, it's got Baftas, it features some of our favourite acting talent and the enthusiastic Judith Kerr School PTA will be putting on food and drink for your evening delectation. You can't ask for more! Oh, ok then. It's also FREE!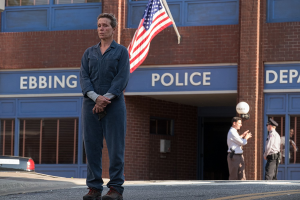 In Three Billboards Outside Ebbing, Missouri – one of the most popular films of 2018 – writer / director Martin McDonagh (you know, the guy that directed In Bruges) has crafted a dark comedy / drama that finds Mildred Hayes (played by Oscar winner Frances McDormand) challenging the failure of William Willoughby (played by not Oscar winner Woody Harrelson), Ebbing's Chief of Police, to solve the murder of her daughter many months earlier.
Renting advertising space on three billboards located beside the symbolically bypassed road into town, Mildred's no nonsense messages divide Ebbing's residents and cause repercussions when redneck Officer Dixon (played by Oscar winner Sam Rockwell) responds. We're not saying any more but we can assure you that it hairpin-turns its way through the scorching, luminous, tragi-comedic plot to become one of the most talked about films of 2018. It's clearly designed to make you feel before you think, and not all of those feelings are going to be nice ones, but it's better then feeling that you've missed out. So come along to the Judith Kerr Primary School to see what all the fuss has been about!
Click here to see the trailer!
This screening will be subtitled.
As part of this year's Herne Hill Free Film Festival we are excited to be partnering with the Norwood and Brixton Food Bank, helping to raise awareness for this most worthy of local causes. We will be collecting food donations and spare change at each of our screenings so, if you can, any food or money that you can spare would be greatly appreciated to help this wonderful charity continue the admirable work they do in the local area. We will be tweeting information about urgently needed items so stay tuned on Twitter to @HerneHillFilm.