Share

Monday 27th May 2019
The Ponds + (Swimming Shorts)
Free
(No ticket required - First come first served)
7:30PM (Doors open 6:45PM)
The ponds at Hampstead Heath are packed through summer, but there is also a hardcore group who swim throughout the year. In this uplifting film, swimmers from both the men's and ladies' ponds share their reverence for the therapeutic powers of cold water and the bonds created from swimming year-round. They reveal how, through the highs and lows in their lives, the ponds provide a space for healing and respite, offering a constant source of freedom and renewal. There will be a Q&A with the director, Patrick McLennan, afterwards.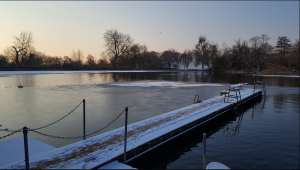 Screening with The Ponds is Waterlog, an award-winning short by Ben Cox about wild swimmer Joe Minihane, and Lynda Laird's Below 10 Degrees, a multimedia short about our very own Brockwell Lido.
Why not make this an experience, come along beforehand and test the waters out for yourselves? The pool is open from 8.0am-1.00pm and again from 4.30pm-7.00pm.
See the trailer here!

As part of this year's Herne Hill Free Film Festival we are excited to be partnering with the Maudsley Charity, to help them promote positive change in the world of mental health and to make a real difference to the treatment of mental health in our area. We will be collecting donations at each of our screenings to support their local activities, so if you can, any money that you can spare would be greatly appreciated to help this wonderful charity continue the admirable work they do.