Share

Saturday 23rd April 2016
The Lion King
Free
(No ticket required - First come first served)
2:30PM
A classic from Disney's Renaissance era retelling Shakespeare's Hamlet for all the family.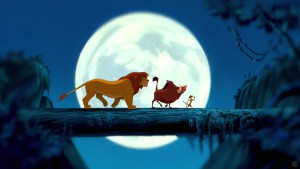 This Disney animated feature follows the adventures of the young lion Simba, the heir of his father, Mufasa. Simba's wicked uncle, Scar, plots to usurp Mufasa's throne by luring father and son into a stampede of wildebeests. But Simba escapes, and only Mufasa is killed. Simba returns as an adult to take back his homeland from Scar with the help of his friends Timon  and Pumbaa.
The film boast's one of the best-loved soundtracks of all time – so come and sing along! Refreshments available.

To mark the 400th anniversary of William Shakespeare's death we are screening several bard-related films. Look out for this symbol on our event pages.