Share

Friday 06th September 2019
The Lady Vanishes
Free
(No ticket required - First come first served)
8:30PM (Doors open 7.30PM)
INDOOR:
The Old Waiting Room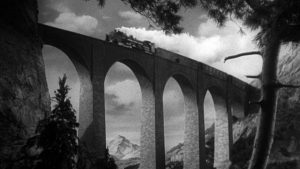 On Friday 6th September 8.30pm, Peckham Rye Station's Old Waiting Room will open its doors for a one-off screening of Alfred Hitchcock's classic railway adventure, The Lady Vanishes.
 A young woman journeying across Europe realises that an elderly lady has disappeared from the train on which they were both travelling, but why will no-one believe her?
Now accessible on this rare occasion, the Old Waiting Room's Victorian grandeur provides the perfect backdrop to celebrate Hitchcock's much-cherished comedy thriller. Why not bring along an item that a 1930s traveler would take on a train journey – a woolen scarf; knitting; a magazine from the period; a flask of tea!
 Access is directly from the street via a staircase only. Guests are advised to wear sensible footwear due to the uneven nature of the floor and to wrap-up warm as the space is not heated. Drinks will be available to purchase. Doors open at 7.30. Arrive early to secure a seat – this is a first come first served event.
Special THANKS to the Friends of the Old Waiting Room for allowing this event to happen!
ABOUT THE VENUE:
A previously hidden architectural gem, the Old Waiting Room has been restored to its former Victorian splendor through community-initiated work and is now considered a local treasure. Originally one of London's grandest waiting rooms, the beautiful 1860's hall had been bricked up and abandoned for 50 years but is now grade 2 listed and accessible via the original iron staircase.
VENUE CAPACITY: 90