Share

Sunday 13th September 2020
The King Of SE15
Tickets are required for this event - see below
5:15PM
INDOOR:
The Green Community Centre, Nunhead Green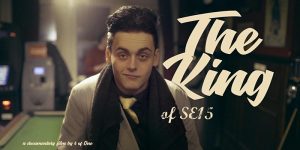 A documentary following Aaron Arthur, The King of SE15, during the Covid-19 pandemic.
The King of SE15, aka Aaron Arthur, is a local Nunhead resident who has performed for years in Nunhead's local haunts as Elvis Presley, until Covid-19.
The evening will showcase an independent documentary made by Six of One, on Aaron and his performances in aid of the Salvation Army, his community spirit and his ever lasting admiration for the man himself, Elvis Presley.
Salvation Army, Nunhead.
The screenings will be in aid of raising money for the Salvation Army, Nunhead, a charity that Aaron has supported throughout lockdown. If you are able to donate to this cause, please do bring cash.
There will be refreshments available at the screen and all proceeds will go to the Salvation Army.
Covid-19
Due to Covid-19, there will be TWO screenings of the 20 minute documentary on Sunday 13th September, 5.15-5.35pm and 6.00-6.20pm
Each screening has a maximum capacity of 28 seats which will be spaced in accordance with social distancing measures.
You can book your FREE ticket through eventbrite: https://www.eventbrite.co.uk/e/the-king-of-se15-tickets-118288926363
In-line with government advice on Covid-19, we will be sanitising the premises before and after each screening.
Face Coverings
If you are able to wear a face covering please do so and help minimise the risk of spreading Covid-19.
We do acknowledge that there are some circumstances where people may not be able to wear a face covering. Please be mindful and respectful of such circumstances, noting that some people are less able to wear face coverings, and that the reasons for this may not be visible to others.
peckhamfreefilmfestival | freefilmfest | _pnfff | YouTube | pnfff@freefilmfestivals.org