Share

Sunday 11th December 2016
The Great Beauty
Free
(No ticket required - First come first served)
7:30PM
An Oscar winner from one of Italy's finest working Directors, The Great Beauty is a film about a novelist and journalist who on his sixty-fifth birthday starts to take stock of his life. It's not our most Christmassy film but we love it and, if you come to the Lido Café at 19:30 on 11th December, we are sure you will too.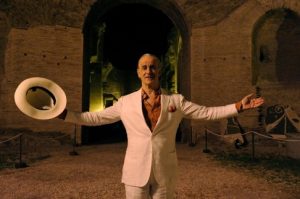 Winner of the Best Foreign Language Film Oscar in 2014, Paolo Sorrentino's visually stunning The Great Beauty is a film about nothing. Or rather the Director took inspiration from Flaubert's famous statement that he intended to write a novel about nothing, the nothing that is "rumors and gossip, the thousand ways we have of wasting time, the things that irritate us or delight us but that are so short-lived that they make us doubt the meaning of life".
The film's protagonist Jep Gambardella has charmed and seduced his way through the lavish nightlife of Rome for decades. Since the legendary success of his one and only novel, he has been a permanent fixture in the city's literary and social circles, but when his sixty-fifth birthday coincides with a shock from the past, he finds himself unexpectedly taking stock of his life, turning his cutting wit on himself and his contemporaries, and looking past the extravagant nightclubs, parties, and cafés to find Rome in all its glory.
It may not be a Christmas film (we said there'd be a few of those!) but it is a good end of year film. It's a chance to see a damn fine film in one of our favourite Herne Hill Free Film Festival Venues, and a chance to enjoy Rome on a cold night in London. We enjoyed it and we think you will too.