Share

Saturday 14th September 2019
The Glenn Miller Story + The South London Jazz Orchestra
Free
(No ticket required - First come first served)
7:00PM (Doors open 6.30PM)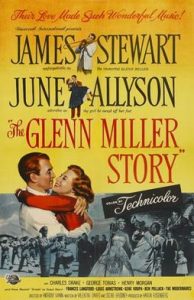 If you like your films to really come alive, on Saturday 14 September, Copleston Centre, Copleston Rd, Peckham, SE15 4AN is hosting a triple event with film, music and dance.
Starting at 7pm, we have the forty-strong member Big Band of the South London Jazz Orchestra, led by conductor James Keirle, who will be breathing excitement and atmosphere pre-film by playing a Glen Miller set including classics such as Pennsylvania 6-5000, Chattanooga Choo Choo and Moonlight Serenade, all of which feature in the film that starts at 7.45pm.
The film follows Big Band leader Glenn Miller played by James Stewart, as he struggles as a composer and trombone player in the music business in 1929, through to his early untimely death in 1944. June Allyson plays Helen Burger who he courted and married. She  plays a level-headed, supportive and 'tough love' wife who helped him realise his dream of finding 'his sound'. The film is scattered with cameos by musicians who were colleagues of Miller at the time, such as Louis Armstrong, Barney Bigard, Trummy Young, Gene Krupa, The Modernaires, Arvell Shaw and Frances Langford, who originally sang Chattanooga Choo Choo.
After the film finishes at 9.45pm, there will be space to dance to the The South London Jazz Orchestra. This time they will be joined by their singer, Georgie, and will play the Big Band music of Duke Ellington and Count Basie until closing at 11pm.
ABOUT THE VENUE:
Coplestone Church & Community Centre was originally built during the rapid development of south London in the Victorian times. This multi-cultural, multi-purpose community centre has grown around the Copleston Church, a joint Church of England and United Reform Church with a thriving congregation.
Every week, more than 500 people join us for activities from baking classes, drumming workshops and pilates to community singing in our centre in the heart of Peckham.
All  groups are run by local residents, some for over 35 years, in the community space that is available to hire.
VENUE CAPACITY: 150