Share

Tuesday 17th May 2022
The Father
Free
(No ticket required - First come first served)
8:00PM
INDOOR:
Herne Hill Baptist Church
Anthony is 80, mischievous, living defiantly alone and rejecting the carers that his daughter, Anne, encouragingly introduces. Yet help is also becoming a necessity for Anne; she can't make daily visits anymore and Anthony's grip on reality is unravelling. As we experience the ebb and flow of his memory, how much of his own identity and past can Anthony cling to? How does Anne cope as she grieves the loss of her father, while he still lives and breathes before her?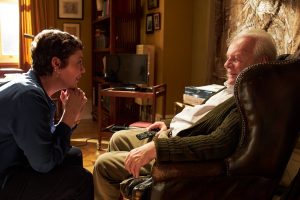 Join us for a screening of this award winning film featuring outstanding performances from Anthony Hopkins and Olivia Colman. We are also delighted to be hosting a Q&A with the film's producer David Parfitt after the screening.
As part of this year's Herne Hill Free Film Festival we are pleased to be partnering again with the Norwood and Brixton Food Bank, helping to raise awareness for this most worthy of local causes. We will be collecting food donations and spare change at each of our screenings, so if you can spare any food or money that would be greatly appreciated to help this wonderful charity continue the admirable work.  We will be tweeting information about urgently needed items so stay tuned on Twitter to @HerneHillFilm.