Share

Tuesday 04th September 2018
The 5000 Fingers of Dr T
Free
(No ticket required - First come first served)
7:30PM (Doors open 7pm)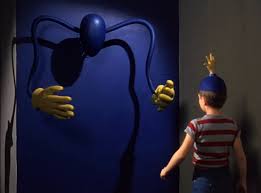 The 1953 Technicolor The 5,000 Fingers of Dr T. is a neglected, almost unclassifiable oddity. Perhaps best described as a surreal children's fantasy musical, the film gets a rare screening on Tuesday 4th September at Space@61, 61 Cheltenham Road, Nunhead, London SE15 3AF. This is the only feature film written by Theodor Seuss Geisel (better known as Dr Seuss), who was responsible for the story, screenplay and lyrics. It was directed by Roy Rowland, with many takes directed, uncredited, by producer Stanley Kramer.
Young Bart Collins (Tommy Rettig) lives with his widowed mother Heloise (Mary Healy). The bane of Bart's existence are the hated piano lessons he endures under the tutelage of the autocratic Dr. Terwilliker (Hans Conried), and Bart feels that his mother has fallen under Terwilliker's influence. While hammering at his lessons, Bart dozes off and enters a musical dream.
In the dream, Bart is trapped at the surreal Terwilliker Institute, where the piano teacher is a madman dictator who has imprisoned non-piano-playing musicians. He built a piano so large that it requires Bart and 499 other boys (hence, 5,000 fingers) to play it. Bart's mother has become Terwilliker's hypnotized assistant and bride-to-be, and Bart must dodge the Institute's guards as he scrambles to save his mother and himself.
At the Hollywood premiere, patrons walked out after 15 minutes, box-office receipts were disappointing, and reviews were mostly critical. However, recent critics have been more generous, with Dennis Schwartz writing that it was "probably the best children's fantasy film ever made by Hollywood."
ABOUT THE VENUE:
Founded in September 2016, the vision for Space@61 was to provide a space for creative use. It is increasingly difficult to find places in London to use to trial ideas, with space at an all time premium. Think of Space@61 as "an Airbnb for business use".