Share

Tuesday 26th April 2022
Summer Of Soul
Free
(No ticket required - First come first served)
8:00PM
In his Oscar-winning debut as a filmmaker, Ahmir 'Questlove' Thompson presents a powerful and transporting documentary – part music film, part historical record created around an epic event that celebrated Black history, culture and fashion.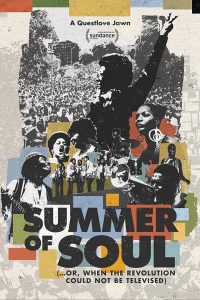 Over the course of six weeks in the summer of 1969, just one hundred miles south of Woodstock, The Harlem Cultural Festival was filmed in Mount Morris Park (now Marcus Garvey Park).
The footage was never seen and largely forgotten – until now.
Bonus feature: in a previously unseen pre-recorded Q&A, Bryan Greene, Consulting Producer, will share his story of how 'Summer of Soul' finally made it to our screens.
There will be a pay bar (cash and contactless) serving drinks and snacks.
Xanadu and '80's roller disco!
Xanadu and '80's roller disco!
April 21 @ 7:00 pm
Deptford Lounge
Join us for the first night of the NXDFFF when we'll be launching in truly retro style with big hair, slick moves and fancy footwork,…
Matilda
April 29 @ 8:30 pm
Eckington Gardens
Come and join us in the Eckington Gardens for open air family cinema, with a screening of Roald Dahl's Matilda the Musical. Matilda tells the…