Share

Sunday 10th April 2016
Suffragette
Free
(No ticket required - First come first served)
2:00PM
INDOOR:
William Booth College (Salvation Army) – Camberwell
Suffragette tells the story of the foot soldiers of the early British feminist movement.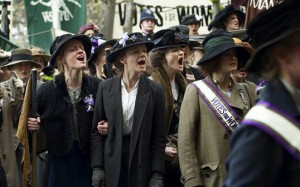 The suffragettes were forced underground to pursue a dangerous game of cat and mouse with an increasingly brutal government state. These brave women were not primarily from the genteel educated classes, they were from hard working backgrounds who saw that peaceful protest achieved nothing. Radicalised and on occasions turning to violence as a means to the only route to progress they were willing to lose everything to change the world. The film features a renowned cast of acting performances from Helena Bonham Carter, Anne Marie Duff, Carey Mulligan and Meryl Streep in the lead roles.