Share

Sunday 10th September 2017
Suffragette
Free
(No ticket required - First come first served)
3:00PM (Doors open 2pm)
INDOOR:
Greenwich Rugby Football Club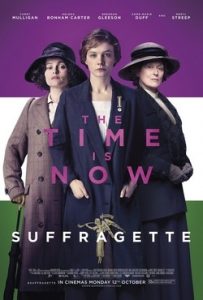 In early 20th-century Britain, the growing suffragette movement forever changes the life of working wife and mother Maud Watts (Carey Mulligan). Galvanized by political activist Emmeline Pankhurst (Meryl Streep), Watts joins a diverse group of women who fight for equality and the right to vote. Faced with increasing police action, Maud and her dedicated suffragettes must play a dangerous game of cat-and-mouse, risking their jobs, homes, family and lives for a just cause.
The showing of Suffragette coincides with the Art Plumstead Plumstravaganza, the end of two weeks of arty happenings and Plumstead Open studios.
The Woolwich and Plumstead Roses WI will be baking cakes and providing tea, donned in Suffragette colours green and purple. Period dressing up very welcome.
The bar will be open and the Plumstravaganza closing event starts at 7pm.
https://artplumstead.wordpress.com
https://woolwichplumsteadwi.com