Share

Thursday 17th May 2018
Stranger in Paradise
Free
(No ticket required - First come first served)
8:00PM (Doors open 7:30PM)
INDOOR:
Prince Regent Pub
"If Lars Von Trier were to make a documentary about the current immigration crisis in Europe, it might very well turn out like Stranger in Paradise, the debut feature by Guido Hendrikx." Variety
Appropriately named after the Borodin-inspired song Stranger in Paradise, made famous by the 1953 musical Kismet and by Tony Bennet's ever-so-silky crooning, Stranger in Paradise (we're talking about the film now) is award winning Dutch documentary filmmaker Guido Hendrikx's fifth release and his second about the politics of immigration in Europe. We're not aware of it having been screened in the UK outside of the festival circuit, so we're strangely happy to be bringing it to the paradise that is The Prince Regent on 17 May!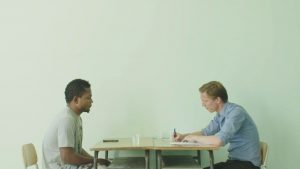 Starring renowned Belgian stage actor Valentijn Dhaenens (who starred in BigMouth / SmallWaR at the Barbican in 2017 if you were lucky enough to get a ticket) the film is, quite literally, a classroom exercise that assembles would-be migrants in a Lampedusa detention centre and gives them – and the viewer – a brutally direct lesson in the realities of European refugee politics.
Dhaenens is the only actor in this not-quite-documentary with the other characters, the refugees, all being very real (they were aware the filming was an exercise but they were not aware of what would transpire in the room, so those reactions you see are their unscripted responses).
We don't want to ruin the surprise by telling you more but suffice to say it, we've never seen a film quite like this. It was one the best films we saw in 2017 and the evening we're putting on will build on the Herne Hill Free Film Festival's screening of Fuocoammare, also set on Lampedusa, last year. The main event will be preceded by a related short film that we know people will enjoy but which, for reasons even we can't quite understand, we're not allowed to publicise. All we will say though is that it should make you think.
Click here to see the trailer!
As part of this year's Herne Hill Free Film Festival we are excited to be partnering with the Norwood and Brixton Food Bank, helping to raise awareness for this most worthy of local causes. We will be collecting food donations and spare change at each of our screenings so, if you can, any food or money that you can spare would be greatly appreciated to help this wonderful charity continue the admirable work they do in the local area. We will be tweeting information about urgently needed items so stay tuned on Twitter to @HerneHillFilm.