Share

Sunday 28th May 2017
Station Square Silent Showcase
Free
(No ticket required - First come first served)
9:00PM (Doors open 8:00PM)
OUTDOOR:
Station Square
Bring something to sit on and whatever you need to stay warm and dry
With the new piano now well established outside Herne Hill station the Herne Hill Free Film Festival is pleased to be bringing a night of silent cinema to Station Square on 28 May, for the final outdoor event of 2017's festival. With the UK's leading silent film accompanist and local resident Neil Brand tinkling the ivories, we are certain the triple-bill of Charlie Chaplin, Charley Chase and Laurel and Hardy will be splitting the sides of Herne Hill and mark a hilarious highpoint to a month of cinematic magic in SE24. The evenings screenings start at 9pm but get there early to grab a good seat!
The Rink, Charlie Chaplin (30 mins)
Charlie employs an unorthodox approach to his work as a waiter. He prepares bills by examining food stains on customers clothing, he makes a cocktail with a shimmy of his body while the cocktail shaker remains immobile in his hands and he carelessly places a broiler cover over a live cat that he serves to a startled diner. He is however also incredibly graceful on roller skates, which is how he spends his lunch break…
Limousine Love (Charley Chase) (20 mins)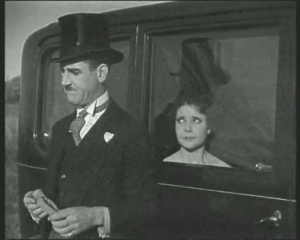 It's Charley's wedding day and he's running late. When his chauffeur quits in a huff Charley is forced to take the wheel himself, in his formal get-up of tailcoat and top hat, and drive through a remote rural area to the wedding. After stepping away from his car for a brief moment he comes back and resumes driving unaware that he has a beautiful nude girl riding in the backseat, which is where the fun begins (for us at least!).
The Finishing Touch (Laurel and Hardy) (19 mins)
Laurel and Hardy are contracted to build a house in one day but on completion a bird lands on the chimney and the house collapses, bit by bit. When the owner demands his money back, mayhem ensues. Somewhat unsurprisingly.