Share

Tuesday 25th April 2017
Spotlight
Free
(No ticket required - First come first served)
7:30PM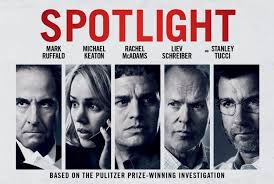 Engrossingly detailed account of the Boston Globe's Pulitzer Prize-winning investigation into the widespread cover-up of child abuse in the city's Catholic Church.
The film examines how a community may become complicit in an unspoken crime. To expose what has been unspoken is the task facing the Globe's Spotlight team. It has been said that the only thing necessary for the triumph of evil is for good men to do nothing. This superbly-acted, thoughtfully directed, Oscar winning film invites it's audience to see what can be achieved when good men (and women) refuse to do nothing.
Cert 15 (ID required). Licensed bar. 'Dancakes' (complimentary bike powered pancakes) available from 7pm.