Share

Monday 07th May 2018
Spettacolo
Free
(No ticket required - First come first served)
8:00PM (Doors open 7:30PM)
Rated as one of the top ten documentaries of 2017 but – for reasons unknown to us – never graced with a release in the UK, Spettacolo tells the story of Monticchiello, a tiny Tuscan village with an unusual tradition: every year since the end of World War II the residents have written and starred in a play about their lives.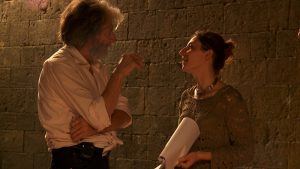 Filmed over four years by US filmmaking duo Jeff Malmberg and Chris Shellen and weaving together new material with archive footage the film traces not only the logistical toil of the endeavour – writing scripts, building sets, casting and rehearsing – but also the tenuousness of the tradition itself, that has resulted from the waning interest of Monticciello's younger generation. Over the last seventy or so years every issue the town has faced, from is near annihilation by the Nazis to the disappearance of its farming heritage, the commercialisation of the land, has been dramatized by local residents.
Malmberg and Shellen learned Italian and moved to Monticciello for the project, which not only explains why the film feels so intimate but also why when tourists tear through the village with their luggage in tow their presence feels so unwelcome. But you're very welcome to join us at The Half Moon on 7 May at 8pm to learn about this village, its people and a fading tradition that we may not have heard about otherwise.
Click here to view the trailer!
As part of this year's Herne Hill Free Film Festival we are excited to be partnering with the Norwood and Brixton Food Bank, helping to raise awareness for this most worthy of local causes. We will be collecting food donations and spare change at each of our screenings so, if you can, any food or money that you can spare would be greatly appreciated to help this wonderful charity continue the admirable work they do in the local area. We will be tweeting information about urgently needed items so stay tuned on Twitter to @HerneHillFilm.