Share

Friday 29th April 2016
Something Better to Come
Free
(No ticket required - First come first served)
7:00PM
INDOOR:
Sanford Housing Co-op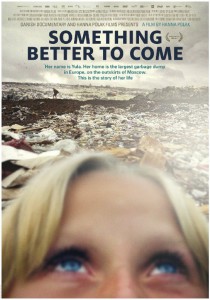 Ten-year-old Yula has but one dream – to lead a normal life.
For 14 years, the director follows Yula as she grows up in the forbidden territory of Svalka, the garbage dump located 13 miles from the Kremlin in Putin's Russia.
Surrounded by barbed wire and guards, the area is closely monitored to keep intruders out. But in the junkyard lives a group of people in a small, lawless society. These people make up Yula's closest family; here she lives her life, and from here her future springs.
SOMETHING BETTER TO COME is Yula's story – a dramatic tale of coming of age and maturing to the point of taking destiny into one's own hands. It is a story of hope, courage, and life, all shot in gripping vérité style that stuns with its directness and immediacy.