Share

Monday 29th May 2017
Something Better to Come
Free
(No ticket required - First come first served)
8:00PM (Doors open 7:15PM)
Shown to a sell-out crowd at the Barbican in March 2017, the Herne Hill Free Film Festival is excited to be bringing Hannah Polak's 2014 documentary film Something Better to Come to Herne Hill for its second screening in the UK. The film follows 10-year old Yula, living in Europe's largest junkyard on the outskirts of Moscow, for a period of 14 years as she plays innocent childhood games, finds love for the first time and, as a grown woman, has the realisation that her future lies outside of the Svalka's walls. We know you're going to enjoy this one, but we also know you're not going to get another chance to it again any time soon. So make the most of this opportunity and come down to The Lido Café on 29 May at 8pm. You won't be disappointed.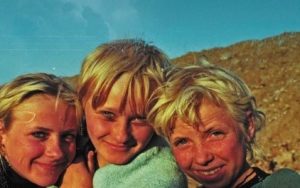 Situated 13 miles from the Kremlin, just on the outskirts of Putin's big showcase of a city, the Svalka is a huge mountain of trash, 17 stories high and stretching for over two miles. Although life can be grim and dismal for the Svalka's inhabitants, it also brings out the best in people; they generously share their vodka and last breadcrumbs with each other and open up their ramshackle sheds to shelter those who need it. And despite the misery that life here has to offer, people strive for normality. Yula – the 10-year old focus of the film – dreams of escaping the Svalka and, for a period of 14 years Something Better to Come, follows Yula's life. In 2000 the film's director was granted intimate access Yula and her family, and over more than a decade she builds a solid relationship of trust with those that she's filming. With year after year passing and it appears that nothing changes for Yula, however the film's epilogue – shot six years after the main bulk of the running time – gives cause for optimism.
The Herne Hill Free Film Festival is lucky to have the chance to show this documentary from Oscar nominated Polish director, cinematographer and producer Hannah Polak. The screening at The Lido Café on 29 May at 8pm will be its second appearance in the United Kingdom, and if you miss this chance you probably won't get the opportunity to see it again. So come down. We are certain that the film, and Yula's story, won't disappoint.
Click here to see the trailer.